We are proud to elect Ralph Lehman as the inaugural member of our league Hall of Fame.

I knew Ralph was a special guy and golfer when I met him for the first time playing against him in a 2012 match. Our first hole was #14 and the pin was tucked as far left as I've ever seen it, a place where the ball would easily fall off the green if you were the least bit careless. Ralph non-chalantly left himself an uphill par putt and managed to escape with an uneventful bogey, while Bob Ames and I left the hole with 7's on our cards. I thought "This guy knows what he's doing." (And I'm convinced of that even more as Ralph and his wife Bev, who married in 1952, are currently enjoying the winter in Yuma, AZ while the rest of us are left on the frigid Palouse.)

Ralph was born in Dietrich, ID and moved to Hazelton, ID in 1939, graduating from high school there. He moved to Moscow in 1950, where he graduated from UI in 1954 with a History degree and minors in Biological Science and Political Science. It was at college where he discovered the game of golf, playing in PE class his freshman year. However, it would be a few years before he would truly call himself "a golfer," as Ralph's stints in the National Guard and ROTC led him to join the army, where he served for more than 20 years. Ralph spent time in Korea and served in the Vietnam War, returning to Moscow in 1971. He received a Master's degree then moved to Kentucky before returning to Moscow permanently in 1975. It was at this time that he became a history teacher at Moscow High, coached the high school golf team, and joined the UI Men's league.

Ralph enjoys winemaking and woodworking, but golf is his favorite hobby, which is understandable if you've had the pleasure of playing with him. I can't think of many guys in their 80's who play as well as Ralph. He hasn't had the pleasure of a hole-in-one yet, but he's come within one stroke of shooting his age. His best round is 76 and his handicap has been as low as 8. When asked about league, he says he enjoys the camaraderie, sportsmanship, and competition. Some favorite league memories are the two occasions he shot 34 on the back 9 and the time in '75 when he won a match against someone who'd had a PGA card. Way to go, Ralph!

Ralph says some favorite courses of his are the Phoenician in Scottsdale, Emerald Canyon in Parker, AZ, and Circling Raven, but it is certain that UI means the most to him.

Thank you Ralph for your many years of participation in Men's league and congratulations on being our first Hall of Famer. It has been my pleasure to become your teammate and friend.

Scott Chapman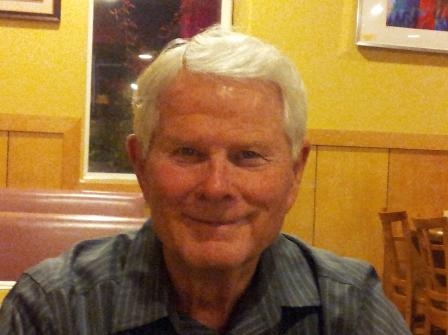 First introduced to golf by his stepfather, Varnel moved to Moscow in the summer of 1979 to attend the University of Idaho and began golfing the UI course the following year. A desire for competitive golf led him to join the UI Men's League in 1987 and he especially enjoyed the 4-man team match play format. Even more meaningful was meeting people who became good friends and golf buddies.
Around 2010 a committee was formed to discuss the direction of the league. Serving as an advisor to the committee led to Varnel becoming league president a few years later. He incorporated ideas the 2010 committee had discussed and worked to update the league bylaws. He is proud to have established the Border Cup, our annual competition with the Palouse Ridge Golf Association, which he says is an off-shoot of a rivalry our club used to have with the Moscow Elks.
Golf is a family affair for the Williams family and many golfers at the UI remember Varnel's young sons Pete, Jeff and Chris playing in the summer almost daily. Pete played on two Moscow High School state championship teams then played for the UI. He still plays at a high level, qualifying for the USGA Mid-AM and Four-Ball competitions. Chris became a four-year Moscow High School state champion, then went on to play at the University of Washington, winning six college events and becoming the top amateur in the world. He is now the assistant golf coach at Marquette University in Milwaukee.
Of the many courses he's played, Varnel thinks the University of Idaho offers one of the best combinations of challenging conditions and affordability he's found. Asked for other favorite courses, he places the Bandon Dunes courses at the top of his list with Circling Raven and Wine Valley splitting honors for his favorite in our area. Although Varnel wasn't playing, his most memorable walk on a golf course was at Cypress Point where the UW team was invited to play in an 8-team match play competition. He says it was a truly magical place, especially when the fog came in, and that Cypress Point's 16th Hole is one of the most beautiful and scariest Par 3's he's ever seen. Many of the players were hitting 3-woods into the wind over the ocean.
In addition to playing golf, Varnel enjoys working on projects around his house. One of his hobbies is carpentry, and he recently finished building a pair of engineered stereo speakers. As a retired horticulturist, he's always tinkering in the yard, trying to improve the landscape. And after four years, he finished restoring/modifying his family's 1970 GMC ranch truck, doing most of the frame work in his garage.
Varnel continues to be passionate about golf and work on his swing mechanics and fitness, which is more imperative as he gets older. His hard work has paid off with the accomplishment of shooting his age several times last year. He says that will be the goal for every round from now on, but even when it doesn't happen, he'll still enjoy golfing with his friends and the opportunity to make new ones.